Workshops coming up in Te Tai Tokerau in 2023 - For All Community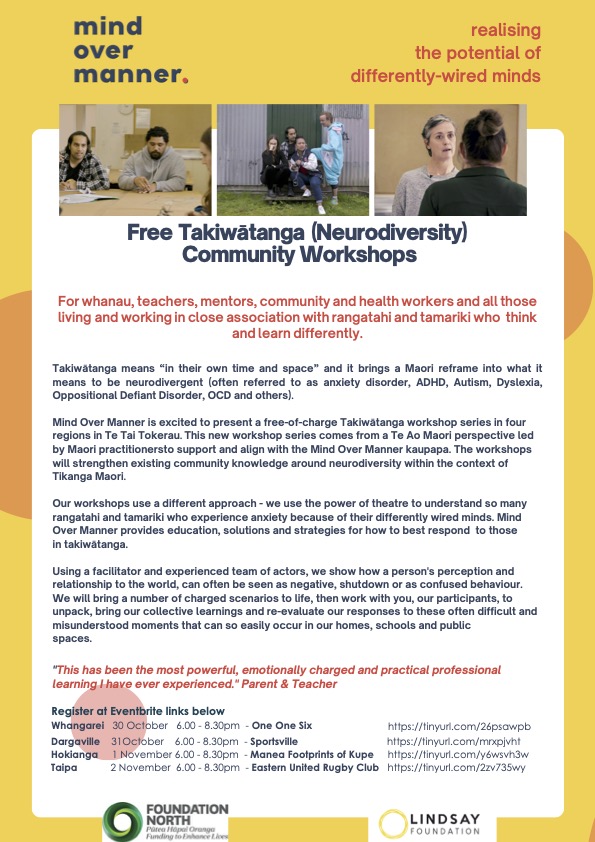 Our workshops are led by facilitator Susan Haldane who, along with a lifetime of lived experience in this space, brings with her 16+ years of research, cutting edge knowledge and skills in providing Neurodiversity education. Mind Over Manner use a creative approach.The workshops are brought to life by 4 highly skilled theatre practitioners with lived experience and are trained in understanding sensory and cognitive processing differences. 
Being informed of some facts around neurodiversity and how it affects sensory and cognitive processing can bring new access to the untapped learning and creative potential of many rangatahi and tamariki.
Creating a collective response brings a common language to neurodiversity and brings the recognition that many aspects of diversity exist in all of us
Integrating Te Ao Maori perspective on neurodiversity provides a reframe out of what is often considered a disability or deficit. The reframe out of deficit labels and into Takiwātanga ( in their own time and space) shows the gifts that each and every person brings into this world
Creative Workshops coming up for Rangatahi in Te Tai Tokerau – November 2023
What Mind Over Manner offers
 Full-day Professional Development Workshop for  Education, Health, Social and Justice


Our most popular workshop consists of 3 x 1.5-hour sessions, led by one facilitator and four theatre practitioners.




The full-day workshop experience can also be done with a Zoom webinar on request


Live $6000 + GST (excluding out-of-Auckland travel) Online $4550 + GST
Community/Public Workshop – The original Mind Over Manner workshop
Perfect for bringing community groups, whānau , professionals and those who work in public spaces all into the same space.This workshop builds shared language and strategies to bring authentic engagement with each person's unique perspective.
Price on Request 

We may be able to help you apply for local funding.

The Workplace – Live or Online Price and timeframes on application
We will tailor and design workshops that can be presented live or provided as online filmed resource.
Price on request
Private Consultation for whanau, schools or the workplace
A 2-hour consultation & presentation with Susan Haldane, focused on the needs of whanau educators and specific student/s. Susan uses a range of filmed resources from our Live workshop, along with a suite of resources and plans to help activate the connection and learning going forward.
Whanau –  $240 + gst (prices are negotiable if prohibitive)
Education, Social, Health and Justice – $480.00 + gst
Workplace $950 + GST
Travel costs may apply
Dialling Up Dialling Down – 5 part filmed webinar for Whanau, Education, Social, Health and Justice     mindovermanner.co.nz/online $150.00/person
Please contact Susan Haldane sue@mindovermanner.co.nz for inquiries
 Reviews and feedback
"As members of the education sector, we are seeing an influx in the number of neurodiverse students being excluded and expelled from schools. No teacher can work from their silos with neurodivergent and anxious children without rapidly going into burnout. Knowledge and Collaboration models, for teachers and all students, build the essence for creating a culture of respect and engagement going forward." – Leanne Eloff, RTLB Cluster 7
Susan Haldane speaks to Kathryn Ryan (RNZ, Nine to Noon) about the rise in school exclusions happening under the radar and Mind Over Manner's 400% increase in demand for workshops – link to interview: https://bit.ly/3l3QGe7Re
"I am HUGELY invested, as I am the dad of a 14-year-old boy with ASD and as yet an undiagnosed 12-year-old girl. I am also an Accessibility Advisor at a University.  I support many many neurodiverse students. Your passion and knowledge in this area is amazing. The teaching coupled with the theatre examples really tied things together well". It would be amazing for all schools and for all teachers currently training at schools and universities to do this workshop. 
Mind Over Manner Webinar Responses
"I am currently doing your online training – Dialing Up Dialing Down and finding it life changing – for myself and for the students in our school"
"I slowly chipped away at watching the webinars, and I need to say I was blown away. This has by far been the most in-depth and informative series of webinars that I have actively engaged in"
Community workshop feedback
"Tonight, Mind Over Manner have allowed some deep learning to happen and I'm so grateful. I hope that this kind of thing can continue to happen so that the kids of this generation can continue to blossom and grow, Kia ora".
 2023 Neurodiversity Workshops and Tours
 1. Takiwatanga Workshop Series
     Te Tai Tokerau Tour    October/November 2023   (Funded by Foundation North)
   Poster attached above
2. Outward Bound Marlborough.     October 2023
3. Massey University Auckland.  September 2023  
4. Public Workshops  May 2023   (Funded by Lotteries NZ)
     Wellington – City Art Gallery
     Taranaki – Len Lye Govette Brewster   
5. Auckland Neurodiversity Professional Development in Education
6. May Road primary
7.Waikōwhai Intermediate
8. Waitakere Alternative Education Consortium
9.NZMA – Auckland Trades Campus  
10. Selwyn College
11. Canterbury District Youth Forum
12. Corrections  – Rangitahi team
13. Laura Ferguson Brain Injury Trust
14. Odyssey House
15. Methodist Mission
16. Real
17. Ara
18.Enabling Good Lives

Mind Over Manner Podcast Contribution Ep 4 and 10